Trump's Tax Plan Could Boost Gold and Silver
07/11/2017 16:16:22
By 
BLOOMBERG
Gold and silver could gain on haven demand: TD's Melek

Geopolitical tensions with North Korea may also boost metals
Politicians can keep arguing whether President Donald Trump's tax plan will benefit the middle-income families and U.S. businesses, but there's one sector that could be a clear winner: precious metals.
The tax plan being considered in Congress would inflate the nation's budget deficit and expand the debt, Bart Melek, head of global commodity strategy at TD Securities in Toronto, said at the Silver Industrial Conference in Washington. That deterioration in the nation's fiscal standing is a recipe for higher silver and gold prices, he said. From 1984 through 2012, gold rose as the federal debt climbed relative to gross domestic product, Melek said.
Based on Thursday's closing price, gold prices may advance more than 7 percent by the end of next year to $1,360 an ounce, as investors seek precious metals as a hedge against uncertainties from "U.S. political drama and geopolitical tensions with North Korea," Melek said in an interview before his presentation at the conference.
Silver will outperform gold, surging as much as 19 percent to $20 an ounce by the end of next year, as global growth boosts industrial demand for the white metal just as mine supply slows, he said.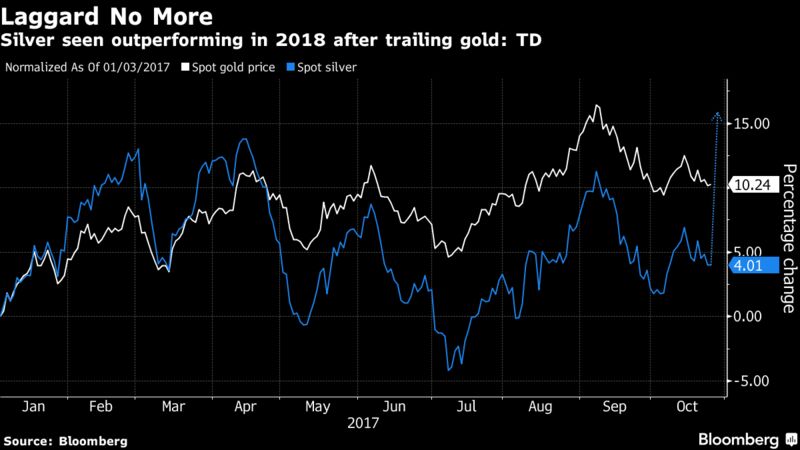 https://www.bloomberg.com/news/articles/2017-10-27/trump-tax-plan-political-drama-seen-boosting-gold-and-silver
---
Sign up and receive our expert guide to buying gold
Receive regular updates about new collections, bars and bullion, plus all the latest industry news. We promise never to share your data with any third parties​